---

Ziggy Ansah is about to be a first-round NFL pick—in the sport his family hasn't even seen him play.
While serving as a missionary in Ghana, Kenneth R. Frei (BS '12) met and was impressed with Ezekiel "Ziggy" Ansah's ('13) 100-watt smile, easygoing personality—and 39-inch vertical leap.
"He's been a physical freak since as long as I've known him," Frei says.
Yet nobody could have predicted the improbable trajectory of Ansah's athletic career.
Ansah came to BYU having never seen a football game—or a football. Now, after a couple of years of relative anonymity on the BYU football team, the 6-foot-6, 270-pound Ansah has transformed into a dominant force on the Cougars' defensive line—a force that has NFL scouts and draft experts salivating. He's projected to be a first-round selection in the April 2013 draft.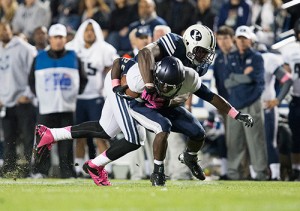 The unlikely journey from raw athlete to football star began modestly, when Ansah and Frei would play basketball together on P-days in Ghana. They became close friends, and Ansah, who was also a talented soccer player, told Frei he wanted to play in the NBA someday. Ansah joined The Church of Jesus Christ of Latter-day Saints, and Frei, who baptized him, encouraged Ansah to apply to BYU.
The two ended up as roommates for a couple of semesters, and Ansah decided to pursue his hoop dreams by trying out unsuccessfully—twice—for the Cougar basketball team. For a time, he ran track for BYU.
"He was so big, he hit the guy to his right and bumped him off his lane," says track coach Leonard Myles-Mills (BS '99), who walked Ansah to the football office. "I dropped him off like a child being left at a day care."
As a walk-on Ansah endured many long, discouraging days. His teammates had to teach him how to don his football gear.
"The first time I put on the helmet, somebody smacked me right away," Ansah recalls. "I was like, 'Oh, man, this is going to be miserable.'"
But this classic diamond in the rough progressed at warp speed. While his big teddy bear persona belies the aggressive nature the sport demands, once he found a way to unleash that aggression, everything clicked: Ansah started leveling quarterbacks with ferocious hits.
"Ziggy's picked up a knowledge of the game faster than anyone I've been around," says BYU linebackers coach Kelly S. Poppinga (BS '07, MS '11).
Ansah has since been featured in Sports Illustrated and received an invitation to the prestigious Senior Bowl, a showcase for the nation's top seniors.
Says coach Bronco Mendenhall, who was initially skeptical that Ansah would ever step onto the field for the Cougars, "It's a remarkable story. You could make a movie about it."
Dozens of NFL scouts and agents have flocked to Provo to see Ansah, who is eyeing a shot at the NFL. "If I said I don't think about it, then I'm lying," he says.
If he were able to stick on an NFL roster, Ansah would be in position to financially assist his relatives back in Ghana, who have never watched him play football.
While football is important to Ansah, so is his education—he's majoring in actuarial science with a minor in math. The humble, soft-spoken Ansah has been reticent to break his academic focus for the limelight, more often than not shying from the media and the agents, relying on the coaching staff to keep him insulated.
Still, he makes time for some important people. On Senior Night, says Frei, Ansah invited a 7-year-old fan to meet him before the game.
"Ziggy made her feel like a million bucks. He signed her shirt and gave her a big hug and posed for pictures," Frei says. "He hasn't let everything go to his head. I'm proud of him for that, for his willingness to give back."